We're thrilled to share a new update regarding the Blockonomics payment integration for WordPress users. We've made a significant improvement that's bound to enhance your user experience.
How to update
Update to version 3.6.5 or higher from your WordPress Dashboard
What's New?
The Blockonomics payment page has been relocated to its dedicated WordPress Page. This means you now have the power to customize and edit the appearance of your Blockonomics payment page directly from your WordPress dashboard. Here's why this change is so valuable:
Enhanced Theme Compatibility: The new payment page seamlessly integrates with a wide range of WordPress themes, including premium themes and those constructed using popular page builders.
Effortless Customization: With the payment page residing within your WordPress environment, you have the freedom to tailor its display to perfectly align with your brand and style. This level of customization ensures that your payment process reflects your unique identity.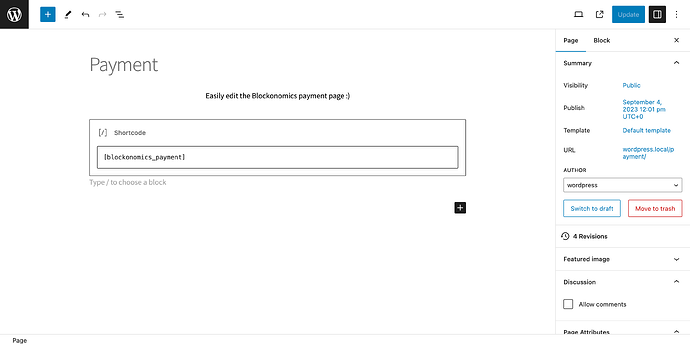 Ready to make the most of this feature?
Click here to access our article that walks you through the steps to edit and customize your payment page.
Unlock the full potential of your Blockonomics payment experience with this latest update. We're committed to providing you with tools that simplify your workflow and make your website truly your own.
Stay tuned for more exciting enhancements on the horizon!